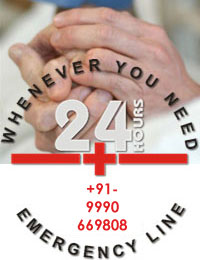 Elevate Above the Heart
Gravity makes blood flow down easier than it flows up. If you hold one hand above your head and the other at your side, the lower hand will be red while the higher one is pale.

Step two to control bleeding uses this principle. Elevate the wound above the heart. By elevating the wound, you slow the flow of blood. As the blood slows, it becomes easier to stop it with direct pressure. Remember, it must be above the heart and you must keep direct pressure on it.
Use Pressure Points
Pressure points are areas of the body where blood vessels run close to the surface. By pressing on these blood vessels, blood flow further away will be slowed, allowing direct pressure to stop bleeding.

When using pressure points, make sure you are pressing on a point closer to the heart than the wound. Pressing on a blood vessel further from the heart than the wound will have no effect on the bleeding.
Common pressure points:
Arm between shoulder and elbow - brachial artery
Groin area along bikini line - femoral artery
Behind the knee - popliteal artery
Remember to keep the wound elevated above the heart and keep pressure directly on the wound.


When Should You Apply a Tourniquet?
When should you apply a tourniquet? The simple answer: almost never. Tourniquets severely restrict or occlude blood flow to the arm or leg to which they are applied. Using a tourniquet to stop bleeding has the potential to damage the entire arm or leg. Patients have been known to lose limbs from the use of tourniquets.

Often, if a tourniquet doesn't cause a loss of function on the extremity which has it, then it probably wasn't applied correctly. Applying a tourniquet is a desperate move - only for the most dire emergencies where the choice between life and limb must be made.

For a step-by-step guide, see How to Use a Tourniquet.

Using a tourniquet requires wrapping a cravat (non stretchy material like terry cloth or linen) around an extremity and tightening it with the use of a windlass stuck through the bandage.

The tourniquet should be tightened until the wound stops bleeding. If there is any bleeding at the wound after placing a tourniquet, then the tourniquet must be tightened.

When a tourniquet is applied, it is important to note the time of application and write that time down somewhere handy. The best bet is to write the time on the patient's forehead with a water-proof marker.

Once bleeding is controlled, take steps to treat the victim for shock.